A comprehensive guide to local organic and sustainably grown food, services and products in Massachusetts and beyond. A project of NOFA/Mass.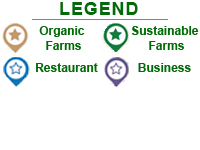 World Farmers- Flats Mentor Farm
769 Main St., Lancaster, MA
01523
Since the early 1980s, recently arrived immigrant farmers have grown produce on plots at FMF ranging from 1/8 acre to 5 acres. Located on a 70-acre parcel of land, FMF provides the space for these immigrant farmers to expand their knowledge of sustainable agriculture while producing quality vegetables for sale at local markets. These farmers come from agrarian backgrounds and hold a wide range of agricultural and business skills acquired both in their home countries and in the United States. While many were successful farmers in other countries, there is a need for further marketing, business, and agricultural education to improve capacity for running a small farm business in New England. While many of the farmers are successful in growing vegetables easily recognized by most Americans, they also specialize in growing many vegetables from regions of eastern Africa, Southeast Asia, and South America.
We are excited to offer our customers an array of ethnic vegetables that would otherwise not be found in our local markets without traveling to the vegetable markets of Asia, South America and Africa. Our shares will include varieties of mustard greens, pac choi, basils, peppers, peas, beans, squash, root vegetables and herbs,
Farmers from Flats Mentor Farm sells at 29 farmers' markets across eastern and central Massachusetts, primarily concentrated around the Boston area.
We offer CSA shares through Clover Food Lab restaurant in Cambridge and Burlington, MA. Distributions will be on Mondays beginning in mid-June, continuing through the end of October. Full shares are $580, half shares are $300. See http://http://www.cloverfoodlab.com/csa/ for details and to sign-up!