A comprehensive guide to local organic and sustainably grown food, services and products in Massachusetts and beyond. A project of NOFA/Mass.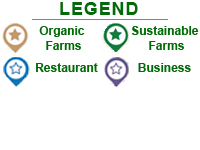 PO Box 399 , Barrington, NH
03825
We supply our customers with a wide selection of over 8,500 products representing thousands of local and international manufacturers. Our unique product mix encompasses natural, organic, ethnic, gourmet and regional specialties as well as many unusual and hard to find items. We strive to source products of quality, distinction, authenticity, originality and nutritional value.
Our broad range of conventional and organic bulk products, the company's foundation, continues to expand with rare and hard to find items into what has become one of the largest and most complete selection available. Our product categories also include grocery, frozen and refrigerated foods, as well as a large representation of natural remedies/supplements, personal care, household and pet care. We serve a diverse account base that includes retail, bakeries, institutions, producers and buying clubs. Our retail customers are an eclectic mix of traditional natural foods stores, specialty/gourmet, farm stands, country stores, restaurants, bakeries and independent markets with a crossover blend of ethnic, natural, organic, regional specialties and gourmet foods. These accounts include colleges/schools, health spas, retreat/conference centers, seasonal camps, bakeries, cafes/delis and producers.
We serve buying clubs - a group of individuals that wish to buy in bulk, buy organic, buy local- Deliveries are made right to their homes or location of choice, with no delivery charges and low minimum order requirements. Advantages of ordering through Associated Buyers Many of our 8,500 products are sold by the piece so you can stretch your purchasing dollars and carry a wider range of items. An extensive selection of products made by small New England vendors. 1,100 bulk food items, many of which can be broken down into smaller quantities in our certified organic warehouse. A wide selection of imported and ethnic foods free of MSG, preservatives and artificial colors. Gourmet, specialty and hand-crafted items of all types. Vegetarian foods as well as organic and locally raised meats.
Local Deliveries – right to your business or home Low Minimum Orders Real Customer Service
Monday through Friday 8:30 a.m. to 5 p.m. Pickups by appointment only
We are a distributor of national and local brands. Products that you will won't see anywhere else and products that some are familiar with. Offering: Organic, Gluten Free, Fair Trade, GMO Free, Kosher. Offering - Bulk Items, Grocery Items, Ethnic Items, Refrigerate and Frozen Items, Household Items, Natural Remedies, Personal Care and Pet Care.