A comprehensive guide to local organic and sustainably grown food, services and products in Massachusetts and beyond. A project of NOFA/Mass.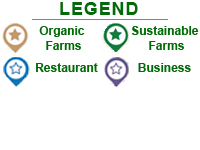 Organic wheatgrass and microgreens
81 West Street, Attleboro, MA, United States
02703
Phone: 508-455-0532
Email: [email protected]
Website: 2FriendsFarm.com
Online Shop: http://www.2friendsfarmfresh2you.com
We are a small certified organic farm dedicated to growing great produce and great kids. Our farm is dedicated to enriching  the soil to create nutrient dense produce. We are no till farm with a mission of loving the [...]
3 Number six Schoolhouse Road
01507
Whitney DeCiccio
(757) 403-0759
Located in Worcester, MA, Acoustic Java is a small-batch coffee roaster and cafe committed to locally-grown organic food & sustainable specialty coffee & tea. Independently owned and operated, we are a forward-leaning small-batch coffee roaster and cafe with one location [...]
932 A Main Street, Worcester, MA
01610
Apple Street Farm is located in historic Essex, Massachusetts. We cultivate 5 acres of vegetables using sustainable methods and we pasture-raise heritage breeds of poultry (laying hens, meat chickens, turkeys, ducks and geese) and have a small flock of [...]
35 Apple St., Essex, MA
01929
Diversified small farm offering heirloom vegetables, corn shocks in the fall and more. Our products are available through our website.
74 Tannery Road, Southwick, MA
01077
CSA, Dairy, Beef. Dairy store open Monday-Saturday
219 County Road, Ipswich, MA
01938