A comprehensive guide to local organic and sustainably grown food, services and products in Massachusetts and beyond. A project of NOFA/Mass.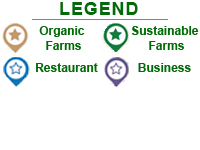 10 Burton Drive, Londonderry, NH
03053
You can reach at Chandra Carson at [email protected] and Sue Andersen at [email protected].
Since its founding in 1983, Stonyfield Farm has not only become an organic industry leader, but also is recognized worldwide as a pioneer in social and environmentally responsible corporate practices.
Stonyfield's organic yogurts, milk and other products use only all-natural and organic ingredients -- never any preservatives or artificial flavors, colors and sweeteners like other brands -- as well as farm-fresh milk from family farms, and fruits that are hand-picked to ensure quality and freshness.
Stonyfield got its start as an organic farming school, which means it's been caring for the planet longer than it's been making yogurt. Today, Stonyfield organic ingredient purchases help to keep over 60,000 farm acres free of toxic, persistent pesticides and chemical fertilizers known to contaminate soil, rivers and drinking water.
To help reduce global warming, Stonyfield offsets all of the C02 emissions from its facility energy use. It also started a nonprofit called "Climate Counts," which shows people how they can help fight climate change by the way they shop and invest.
With a solar array on the roof of the Yogurt Works in Londonderry, NH, Stonyfield generates some of the clean renewable energy it uses to make its yogurt. Through reuse and recycling, Stonyfield also prevents hundreds of tons of waste from reaching landfills and incinerators each year. And the company gives 10% of profits to efforts that help protect and restore the Earth -- more than $7 million to date.
The company mission remains as important as it was back in 1983 -- and maybe even more relevant:
To provide the very highest quality, best tasting all-natural and certified organic products.
To educate consumers and producers about the value of protecting the environment, and of supporting family farmers and sustainable farming methods.
To serve as a model that environmentally and socially responsible businesses can also be profitable.
To provide a healthful, productive and enjoyable work place for all employees, with opportunities to gain new skills and advance personal career goals.
To recognize our obligations to stockholders and lenders by providing an excellent return on their investment.
To locate our products in your area, check out the Stonyfield Store Locator.
Organic yogurt, milk, ice cream and smoothies.
Chandra Carson and Sue Andersen