A comprehensive guide to local organic and sustainably grown food, services and products in Massachusetts and beyond. A project of NOFA/Mass.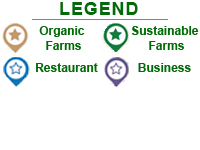 Coast of Maine offers truly exceptional, organically approved, OMRI listed, compost-based soils, enriching mulches, soil supplements and liquid fertilizers. Available in bags or in bulk at independent garden centers, nurseries and greenhouses all across New England, our unique marine [...]
Mail Order and Online Seed Company. We offer organic and conventionally grown seeds, tools, and organic growing supplies.
972 Benton Ave, Winslow, ME
04901