A comprehensive guide to local organic and sustainably grown food, services and products in Massachusetts and beyond. A project of NOFA/Mass.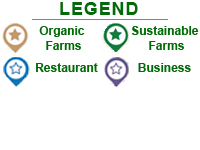 81 West Street, Attleboro, MA, United States
02703
2 Friends Farm is a bustling year-round farm, growing a rainbow of certified organic microgreens and wheatgrass in rich, fertile soil under LED grow lights inside a bright and open re-purposed mill building. All 28 crops are hand harvested and packaged in a QCP certified harvest and production room where greens, micro-salad mixes and wheatgrass are then chilled to preserve peak freshness in a state of the art, energy efficient walk-in cooler. Distributors may pick up at the farm, or the farm delivers to New England distribution hubs. Chefs, specialty grocers, juice bars, cafes, institutions and the public all are accommodated. We also have an online shop, Fresh 2 You, where folks can order what they'd like for home delivery or farm pick-up, or shop at your local grocer including Roche Brothers, Dave's Markets, A Markets, Brigido's, Foodies, etc.
Certified Organic Microgreens (arugula, basil, beets, etc); Micro Super Salads (The Healer, The Cleanse, etc); and Wheatgrass (living trays and fresh cut for juicing).
Phone: 508-455-0532
Email: [email protected]
Website: 2FriendsFarm.com
Online Shop: http://www.2friendsfarmfresh2you.com
Please call or email to arrange
We offer Farm Pick-up on Thursday afternoons. Order online and we harvest your order for farm pick-up in Attleboro.