A comprehensive guide to local organic and sustainably grown food, services and products in Massachusetts and beyond. A project of NOFA/Mass.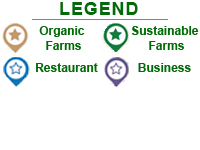 Organic wheatgrass and microgreens
81 West Street, Attleboro, MA, United States
02703
Phone: 508-455-0532
Email: [email protected]
Website: 2FriendsFarm.com
Online Shop: http://www.2friendsfarmfresh2you.com
We are a small certified organic farm dedicated to growing great produce and great kids. Our farm is dedicated to enriching  the soil to create nutrient dense produce. We are no till farm with a mission of loving the [...]
3 Number six Schoolhouse Road
01507
Whitney DeCiccio
(757) 403-0759
Located in Worcester, MA, Acoustic Java is a small-batch coffee roaster and cafe committed to locally-grown organic food & sustainable specialty coffee & tea. Independently owned and operated, we are a forward-leaning small-batch coffee roaster and cafe with one location [...]
932 A Main Street, Worcester, MA
01610
Apple Street Farm is located in historic Essex, Massachusetts. We cultivate 5 acres of vegetables using sustainable methods and we pasture-raise heritage breeds of poultry (laying hens, meat chickens, turkeys, ducks and geese) and have a small flock of [...]
35 Apple St., Essex, MA
01929
Diversified small farm offering heirloom vegetables, corn shocks in the fall and more. Our products are available through our website.
74 Tannery Road, Southwick, MA
01077
CSA, Dairy, Beef. Dairy store open Monday-Saturday
219 County Road, Ipswich, MA
01938
Year-round mostly grass with occasional grain No BST
51 Rogers Street West Newbury MA 01950
01950
Dry Peony Flowers, Flower Essences, Heirloom Garlic, Black Garlic, Shibori, Seasoning Salts, Perennials for pollinators
Pelham Hill Road, Shutesbury, MA, USA
01072
Atlas Farm is an 85-acre diversified vegetable farm located in Deerfield, Massachusetts. We grow certified organic plants and produce. Our produce is sold across Western Mass. and in the Boston area through wholesale, farmers' markets, and at our retail [...]
218 Greenfield Road, South Deerfield, MA
01373
I started a business in 2018 and developed 100% Certified Organic Cotton Produce bags. Saving the environment is very important to me and my bags serve several purposes. 1) They eliminate Plastic – they are Recyclable, Reusable, Biodegradable 2 The bags make [...]
Cathy DiPilato
7 Lambert Circle
Worcester, MA 01605
508-545-4115
We are a small family farm in our beginning season of opening an organic edible nursery. Our dream is to re-establish the presence and ideology of the once prominent victory gardens. Our nursery is focused on growing heirloom [...]
74 Thrasher Hill Road, Worthington, MA
01098
Chris Reid and Anna Maunz
Sustainable. Ethical. Local.
214 Williamsville Rd, Barre, MA, USA
01005