A comprehensive guide to local organic and sustainably grown food, services and products in Massachusetts and beyond. A project of NOFA/Mass.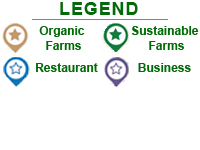 3 Number six Schoolhouse Road
01507
We are a small certified organic farm dedicated to growing great produce and great kids. Our farm is dedicated to enriching  the soil to create nutrient dense produce. We are no till farm with a mission of loving the land to cradle our community.
Kale, Swiss Chard, Lettuce, Kohlrabi, Radishes, Salad Turnips, Carrots, Beets, Summer Squash, Tomatoes, Peppers, Sweet Corn, Onions, Scallions, Cucumbers, Eggplants, Watermelon, Herbs, Cabbage etc.
Whitney DeCiccio
(757) 403-0759
Canal District Farmer's Market (Worcester)
Sturbridge Farmers Market
Everlast Nursery Popup Farmers Market
Call or email for wholesale price list!
Couple Share 425
Family Share 650