A comprehensive guide to local organic and sustainably grown food, services and products in Massachusetts and beyond. A project of NOFA/Mass.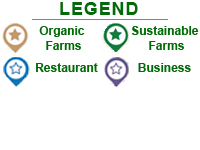 B-Organic bags are 100% non-bleach, organic cotton and they are G.O.T.S (Global Organic Textile Standard) certified. Organic fabric allows for proper air circulation which will help keep your vegetables, herbs and fruits lasting longer.  These bags help food waste as well as 100% sustainable.
Clark University in Worcester, MA did a focus group with 85 people, and as a result a freshness chart has be created to show on an average how much longer your fruits and vegetables will last.
The Produce Bags are the same however, each bag is printed with a design to help organize your refrigerator.  The designs are printed from expired fruits and vegetables and turned into inks, they are very vibrant colors and can be washed many times.
Other organic products have been created such as Fruit Fly Bags. In a cotton bag is 100% organic ingredients that smell wonderful to humans but is a fruit fly repellent.
Soaps, Aprons, and other tote bags are part of B-Organic Line.
B-Organic has a 20 page full color printed catalog or digital catalog, please sign on to our website to get a free catalog.
B-Inspirational ~ B-Proud ~ B-Organic
100% Certified Organic Cotton Produce Bags
Fruit Fly Repellent Bags
Recyclable, Reusable & Biodegradable
Cathy DiPilato
7 Lambert Circle
Worcester, MA 01605
508-545-4115