A comprehensive guide to local organic and sustainably grown food, services and products in Massachusetts and beyond. A project of NOFA/Mass.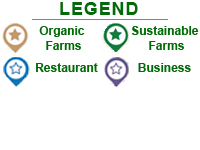 Barefoot All Natural Farm
799 Conant Rd, Athol, MA, USA
01331
We create beautiful artisan soap from the purest local ingredients we can find.
Our goat milk soap is made with lard from our own pasture-raised pigs and milk from our lovely Mini Saanen dairy goats.  Vegan soap is made with homegrown and wildcrafted herbs and teas, along with a generous portion of raw shea butter and cocoa butter.  Never any added perfumes or dyes.  All ingredients are food grade, naturally grown, produced on our homestead farm or purchased locally if possible.  Scent and design elements are solely from herbs, clays, spices and/or essential oils.  Never any synthetic fragrances, colors or preservatives.  Palm free, soy free, synthetic free.
Visit our Etsy shop at etsy.com/shop/barefootallnaturals
Goat Milk Soap, Herbal Vegan Soap, Body Care, Homemade Grain Free Dog Treats, Farm Fresh Eggs, Registered Mini Saanen dairy goat breeding stock, stud service and occasional pets.
We are occasional vendors at the Athol Farmers Market in Athol, MA on Saturdays 9am-12pm from May-October and the Orange Farmers Market in Orange, MA on Thursdays from 3pm-6pm, May-October.
Now accepting new wholesale accounts. Please contact Christy for more information if you are a retail vendor and would like to carry our soap in your store.
Our "Farm to Shower" soap CSA is delivered quarterly, with the change of seasons. Choose from 4, 6 or 8 bars every 3 months. Free nationwide shipping or local pickup available for shareholders.
https://www.etsy.com/listing/460041356/farm-to-shower-soap-csa-seasonal-natural