A comprehensive guide to local organic and sustainably grown food, services and products in Massachusetts and beyond. A project of NOFA/Mass.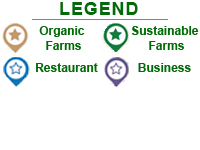 342 North Plain Road, Great Barrington, MA, USA
01230
North Plain Farm is a family-run farm tucked away in the foothills of the Berkshires. . We are committed to our principals of sustainability and we are proud of everything we produce. You can taste that commitment in every bite of our food.
All of our animals spend their days outdoors and are allowed to forage on pasture, their diets are supplemented with organic, non-gmo grain. Our chickens and pigs are also fed high quality post-consumer food scraps from our farm and local food establishments.
Our products are sold at our on-site farm store and the Great Barrington Farmers Market
Milk available: All Season
Grazing and Feeding Management: 100% grass-fed, Certified Organic
Herd Health: No BST, No Antibiotics
Great Barrington Farmers Market