A comprehensive guide to local organic and sustainably grown food, services and products in Massachusetts and beyond. A project of NOFA/Mass.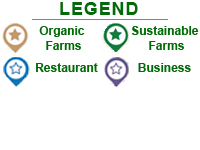 858 Tucker Road, Dartmouth, MA
02747
Farm fresh vegetables grown with respect for the earth and future generations. Our mission is to grow the finest quality produce, focusing on flavor, freshness and nutrition. We only use sustainable farming methods which enhance the soil's natural fertility, and thereby its capacity to produce healthy produce. Through investments in our natural capital (soils) and social capital (community), we aim to build sustainable sources of wealth.
One of our fields is in the third year of transition from conventional farming.
Please join us at one of our educational events, held throughout the season. More details at the Brix Bounty website, under "Events"
Wide selection of fresh vegetables, including beets, carrots, cucumbers, greens, melons, squash, tomatoes and more...
Wings Court Farmers' Market, downtown New Bedford, Thursdays 2 p.m. to 6 p.m., from July through October.
Self-serve roadside stand at the farm. Open daily from mid-May through early December.
We offer full and partial size shares. Sliding Scale: $650-$600 and $500-$450, respectively. Monday and Friday pick-up, from 2 p.m. to 7 p.m. at the farm, mid June through October.
Springtime and Wintertime CSA Shares available as well.