A comprehensive guide to local organic and sustainably grown food, services and products in Massachusetts and beyond. A project of NOFA/Mass.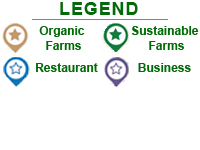 683 River St., Winchendon, MA
01475
Charlie's Redhouse Farm is located on 64 acres of land in Winchendon, and is proud to be certified organic. Presently, CRF grows vegetables and herbs; we also tend a small variety of livestock (goats, chickens, ducks, etc.). We have five hoop houses for production late and early in the season. The fall brings lovely apples and pears, and this year we will also be planting blueberry bushes. There are also plans for a permanent farm stand in the works...
Stay tuned, there is much to come at Charlie's Redhouse Farm.
Fruits, vegetables, herbs and eggs.