A comprehensive guide to local organic and sustainably grown food, services and products in Massachusetts and beyond. A project of NOFA/Mass.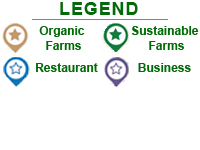 74 Chase Hill Road, Warwick, MA
01378
We are a seasonal organic dairy selling raw milk and cheese made from the milk of 100% grass-fed cows. We also raise beef, veal, and whey-fed pork for sale.
Raw mik, cheese and meat.
Jeannette and Mark Fellows
Amherst and Greenfield, Saturdays.
Self-serve, daylight hours April through December.