A comprehensive guide to local organic and sustainably grown food, services and products in Massachusetts and beyond. A project of NOFA/Mass.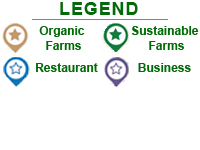 Cranberry Acres – Vineyard Open Land Foundation
572 Lambert's Cove Road, Vineyard Haven, MA
02568
The Vineyard Open Land Foundation is renovating to organic production its more than 100-year-old cranberry bog at Cranberry Acres as an educational project to illustrate the mutual goals of sustainable organic cranberry agriculture and wetlands protection.
We are currently selling our cranberry harvest mainly to local purchasers. Call if you wish to purchase at retail. We are willing to send orders via U.S. Postal Service or UPS.
Carol L. Magee, Executive Director/Project Manager