A comprehensive guide to local organic and sustainably grown food, services and products in Massachusetts and beyond. A project of NOFA/Mass.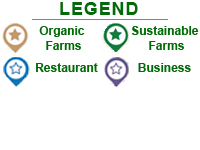 1255 Oblong Rd, Williamstown, MA 01267, USA
01267
Cricket Creek Farm is a small, grass-based cow dairy nestled in the Berkshire hills of Williamstown, MA. We produce raw milk, grass-fed beef and whey-fed pork, in addition to 7 different styles of artisanal farmstead cheeses. We generally milk between 35-40 cows at a time, and care for about 80 animals in total. This is an open farm – we welcome visitors and encourage questions.
Milk Available: Year Round
Grazing and Feeding Management: 95% grass with occasional, organic, non-GMO corn meal and molasses
Herd Health: No BST, Very limited antibiotics, cows are removed from milking herd while antibiotics are in their system