A comprehensive guide to local organic and sustainably grown food, services and products in Massachusetts and beyond. A project of NOFA/Mass.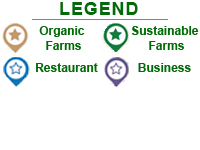 40 Prescott St., Pepperell, MA
01463
Dragonfly Farms specializes in growing vegetables without the use of synthetic fertilizers or pesticides. While we are not certified organic we follow all the principles as outlined by Baystate Organics. In addition to managing fertility through cover crops, compost, and organic soil amendments we maintain a flock of laying hens that are rotated through our fields to feed on spent greens, insects, and certified organic layer feed. All this helps produce a product that is not only healthy for you but is loaded with flavor and nutrients.
You can purchase our fresh vegetables and eggs from our hens via a CSA subscription, local farmers markets or at our farm stand.
Westford Farmers' Market, Tuesdays 2:30 p.m. to 6:30 p.m. June through Octobe; Pepperell Farmers' Market, Saturdays 9 a.m. to 1 p.m. June through September ; Acton Boxborough Farmers' Market, Sundays 10 a.m. to 1 p.m. June through October
Our self service honor system farm stand is open everyday from 10 a.m. to 5 p.m.
In our CSA model we provide a prepackaged box or bag to all shareholders so there is no work weighing out your items or rushing to the pickup site early to get the best quality produce. We employ a swap bin and on occasion bonus bins. Pickup Locations:
Wednesdays from 4 p.m. to 6:30 p.m. at the First Parish Church in Westford Thursdays from 4 p.m. to 7 p.m. at the farm in Pepperel - Fridays from 90 Central St, Boxborough, MA