A comprehensive guide to local organic and sustainably grown food, services and products in Massachusetts and beyond. A project of NOFA/Mass.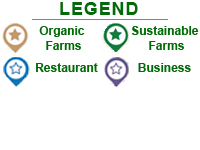 582 Henderson Road, Williamstown, MA
01267
East Mountain Farm is a small diversified farm selling pastured beef, pork and chicken to local families since 1984. The beef cattle are rotated daily, usually in the afternoon, onto fresh pasture providing them with high energy grass. To finish, pasture grass and hay are supplemented with a limited quantity of grain. The pigs are raised in the woods surrounding our pastures on a diet of locally produced grain, whey and whatever their incredible snouts discover while rooting through the forest floor. The chickens are on grass from day one and spend the rest of their lives with complete access to grass, sunlight, bugs and soil. All this adds up to well-cared for animals and delicious meats. We also sell hay. For more information please email [email protected]
Grass-fed beef, pasture-raised chickens and pork. Beef is sold by side or split side. Pork is sold by side ready for your freezer.