A comprehensive guide to local organic and sustainably grown food, services and products in Massachusetts and beyond. A project of NOFA/Mass.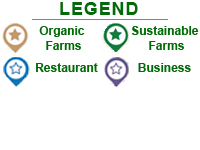 88 Lake Road, Brookfield, MA, USA
01506
We are two young farmers determined to grow nutritious food while caring for the land and empowering our community. We offer a diversity of mixed vegetables, medicinal & culinary herbs, cut & dried flowers as well as ginger and turmeric. We grow all our vegetables from non-GMO seed and follow organic standards with our approach to food cultivation. We choose to practice regenerative methods of farming that build soil structure and biology, mineralize the soil and encourage biodiversity.
Mixed vegetables; medicinal and culinary herbs; fresh and dried flowers; ginger and turmeric.
Michael Zueger & Cara Germain.
Sturbridge Market - Sundays 9-1; June-October on the Common.
Call or email for availability and price list.
Call/Email to join, learn more, or be put on our email list!
Weekly share of beautiful and delicious produce June through October.