A comprehensive guide to local organic and sustainably grown food, services and products in Massachusetts and beyond. A project of NOFA/Mass.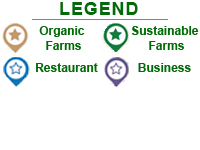 PO Box 80 Ashfield MA
01330
Ghee clarified butter, a lactose-free, shelf-stable, high-heat cooking oil with origins in ancient India. To make our ghee, we begin with butter that comes from healthy, happy Jersey cows in Western Massachusetts.
It's local: Our pure Jersey cow butter is sourced from local farms in Massachusetts where the cows are fed high quality grass, treated ethically, without the use of hormones or antibiotics. Small local dairy farms are rapidly disappearing around the northeast and across the country.  By supporting Full Moon Ghee, you are supporting local dairy!
Artisanal and intentional: We make our ghee in small batches, with attention to each jar. Our process is slow and meticulous—each batch of ghee takes about 12 hours to clarify, cool, and set.
Honoring Ayurvedic tradition: We cultivate a peaceful or sattvic state of mind and chant mantras while making our ghee. Every batch is infused with intentions of tranquility, vitality, and well being.
Made on the full moon: Ghee is traditionally made on the waxing or full moon because according to ancient Vedic texts in India, this is an expansive time during the lunar cycle when the essences of plants and animals are drawn upward. Remaining connected to ancient traditions while honoring the cycles of the moon is important to us, so we offer our respect to the cycles of nature by crafting our ghee on the full moon.