A comprehensive guide to local organic and sustainably grown food, services and products in Massachusetts and beyond. A project of NOFA/Mass.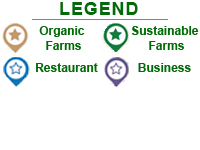 Groton Wellness Medical Dental Spa Bistro
493-495 Main Street, Groton, MA
01450
Groton Wellness is a revolutionary center for health and healing. We offer integrative medical care, health focused dental care, wellness therapies, nutrition, education and a Bistro all working together.
Our bistro hours are Monday - Thursday 8 a.m.-6 p.m., Friday 8 a.m.-5 p.m., Saturday 9 a.m.-4 p.m.
The bistro offers fresh, organic, and local food. We work with local farms in season and Albert's Organics.