A comprehensive guide to local organic and sustainably grown food, services and products in Massachusetts and beyond. A project of NOFA/Mass.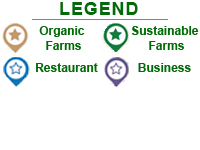 697 Elm Street, Pittsford, VT
05763
Groundworks Farm is year-round, diversified Farm in Pittsford, VT offering the following Farm Shares year-round:
Vegetable Farm Share
Pasture-raised Chicken Farm Share
Pasture-raised and Grass-fed Meat Share
Pastured Egg Farm Share
Vermont Farmstead Cheese Share
Whole Farm Share
We produce sustainable, healthy, delicious, affordable food.
Margaret Evans & Kevin Brown
Flowers, Herbs, Beans, Peas
Our Farm Store is stocked with Eggs and Meat year round and pick your own in the summer. Always Open.
On Farm, Tuesdays 3 p.m. to 6 p.m. Middlebury VT, Tuesdays 4 p.m. to 6 p.m. Hebron NH, Sundays noon to 3 p.m.Cambridge MA, Sundays 12:30 p.m. to 3 p.m.Please check out website for up to date information.