A comprehensive guide to local organic and sustainably grown food, services and products in Massachusetts and beyond. A project of NOFA/Mass.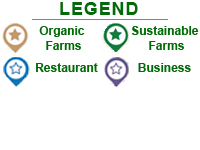 Groundworks Farm is year-round, diversified Farm in Pittsford, VT offering the following Farm Shares year-round: Vegetable Farm Share Pasture-raised Chicken Farm Share Pasture-raised and Grass-fed Meat Share Pastured Egg Farm Share Vermont Farmstead Cheese Share Whole Farm Share We produce sustainable, healthy, delicious, affordable food.
697 Elm Street, Pittsford, VT
05763
Margaret Evans & Kevin Brown
A2A2, organic, grass-fed dairy products, raw and pasteurized.
Cynthia Larson
[email protected]
www.larsonfarmvt.com
Larson Farm, Wells, VT facebook
802-645-1957
We make tools for vegetable farmers.
11 Brookside Lane, North Clarendon, VT
05759