A comprehensive guide to local organic and sustainably grown food, services and products in Massachusetts and beyond. A project of NOFA/Mass.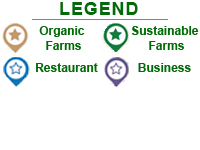 24 Bridge Street, Shelburne Falls, MA
01370
The mission of Hearty Eats is to be a force in our community that enables people to re-connect with local, seasonal food systems that support sustainable practices for our planet and for future generations to come.
At Hearty Eats you will find a casual, counter service setting, where the food comes out fast and is affordable without compromising quality. Our dishes are influenced by cultures from around the world. We are proud to offer this delicious food that is made fresh with local, organic ingredients and does not contain: gluten, dairy, sugar, peanuts, GMOs or artificial ingredients.
Our dishes are designed to utilize produce that are in season growing locally from our partnering farms and businesses all four seasons. (heartyeats.org, June 2017)