A comprehensive guide to local organic and sustainably grown food, services and products in Massachusetts and beyond. A project of NOFA/Mass.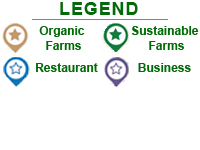 Winchester Road, Warwick, MA
01378
Hettie Belle Farm - Meat CSA, Thanksgiving Turkeys, Holiday Geese and roasting chickens. A family farm raising 100% grass-fed beef, 100% grass-fed lamb and organically-fed pork, chickens, ducks and turkeys. Our meat CSA is distributed in Keene, NH, Florence, MA and Brattleboro, VT and here on the farm in Warwick, MA November-March.
Meat and poultry with a guarantee from our family to yours!
Please do visit our website for lots more details.
100% grass-fed beef & lamb, organically-fed pork, duck, chicken, goose and turkey.
Jennifer Core & Olivier Flagollet
The Meat CSA: $600 CSA shares are comprised of a total of 60+ pounds of farm product distributed over 5 monthly pick-ups (November - March) of roughly 12 pounds each In total, members can expect to receive:
15 pounds 100% grass-fed beef
20 pounds organically fed pork
10 pounds 100% grass-fed lamb
10-12 pounds organically fed chicken (equal to 2 whole roasting chickens)
5-7 pounds organically fed duck (1 whole duck)