A comprehensive guide to local organic and sustainably grown food, services and products in Massachusetts and beyond. A project of NOFA/Mass.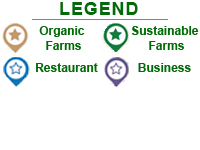 28 High St., Hubbardston, MA
01452
Certified organic peaches, plums and apples. Woodland-raised pork and 100% grass-fed beef. Our pigs are fed only certified organic grain, whey, and our own fruit. They forage for foods in the woodlands where they are raised. Our steers graze on our certified organic pastures in the summer and are fed our own certified organic hay in the winter. We are committed to raising our fruit and livestock in a way that protects the environment and respects the health and well-being of the animals.
Certified organic peaches, plums and apples. 100% grass-fed beef, woodland-raised pork, pure raw honey and maple syrup.
A detailed product list is available on our website. They are available at our farm store or through Mass Local Food at http://www.masslocalfood.org.
Self-service, 9 a.m. to dusk.