A comprehensive guide to local organic and sustainably grown food, services and products in Massachusetts and beyond. A project of NOFA/Mass.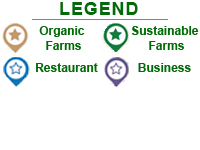 754 Monument Street, Concord, MA
01742
Hutchins Farm has been growing organic fruits and vegetables since 1973 at its location in Concord. At our roadside stand and in several area farmers' markets, we sell only what we grow, so we plan and harvest as much diversity as we are able. Famous for our lettuce, diversity of vegetables, blueberries and apples. Everything is certified organic.
Vegetables, herbs, blueberries, strawberries, apples, seedlings and bedding plants.
Gordon Bemis, Brian Cramer, and Liza Bemis
Cambridge, Central Square, Mondays 12 to 6 p.m., from May through November.
Belmont, Thursdays 2 to 6:30 p.m., from mid-June through October.
Somerville, Union Square, Saturdays 9 a.m to 1 p.m., from May through November.
Our farm stand is open June through October, Tuesday through Sunday, 11 a.m. to 6 p.m. Closed Mondays. Honor system self-serve on the front porch April-May, and November.