A comprehensive guide to local organic and sustainably grown food, services and products in Massachusetts and beyond. A project of NOFA/Mass.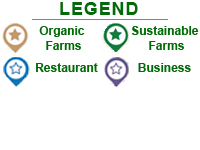 170 Old Ayer Road, Groton, MA
01450
John Crow Farm utilizes an approach for rearing animals known as "pasture-raising." Pasture-raised animals roam freely in a natural environment where they're able to eat nutritious grasses and other plants that their bodies are adapted to digest. Pasturing also helps reduce environmental damage, and yields meat and eggs that are tastier and more nutritious than foods produced on factory farms. All of our birds and animals are grass-fed in natural Massachusetts pastures for the duration of their lives. All animals on John Crow Farm are hormone and antibiotic-free and treated humanely, with deep respect and genuine care. Our methods for raising animals guarantees excellent quality, nutritious meat products, and we are proud that our animals are 100% grass-fed in a stress-free, open environment.
Grass-fed, pasture raised beef, pork, lamb and poultry (chicken, turkey, duck, goose, quail, and pheasant)
TBD for 2012. The John Crow Farm website will be updated through the winter as these markets are determined.
Farm offers a Meat CSA and/or Poultry CSA. Please see our website for other CSA types. Shares sizes range from 5lbs up to 25lbs per month over 6 or 12 month segments. Prices can be seen on our website. Drop off locations are Cambridge, JP, Somerville, Bolton, Groton and Newburyport. See our website for more information.