A comprehensive guide to local organic and sustainably grown food, services and products in Massachusetts and beyond. A project of NOFA/Mass.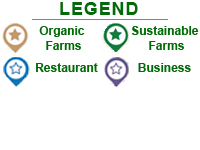 58 Church Lane, Richmond, MA
01254
growing specialty cut flowers, gourmet vegetables, aromatic and culinary herbs
organic garlic, potatoes, kale, chard, beets, carrots, tomatoes. all else no genetically modified or treated seed used, no synthetic pesticides, herbicides, fungicides or fertilizers used. All organic seeding medium, local supply manure and compost on site to amend soil..Practicing raised bed production in part and crop rotation. Selling to local farm markets and contributing to local food pantries.
Lee Farmer's Market Sat 10-2, July - Sept West Stockbridge Farmer's Market Thurs 3-7, Aug -- Sept
honor system farm stand - mon-sun 8am to 6pm July - Sept