A comprehensive guide to local organic and sustainably grown food, services and products in Massachusetts and beyond. A project of NOFA/Mass.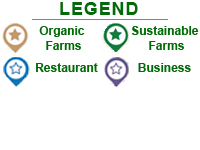 181 Bayview Ave., Berkley, MA
02779
Kettle Pond Farm is a small Organic farm located in Southeastern Massachusetts. We grow a wide selection of veggies, raise chickens, and are constantly extending our efforts into other ventures. We sell most of our goods through a CSA that operates for three seasons - Spring, Summer and Fall. We focus on growing healthy crops through proven fertility practices.
Jams/Jellies, Local Fruit, Chocolate, Tea/Coffee, Honey, etc.
Serve yourself farm stand open from June through October, Saturdays and Sundays from 10 a.m. to 5 p.m.
We offer three different CSA seasons. Spring Shares are $200 for 6 weeks. Summer Shares are broken into Full Shares at $650 and Partial Shares at $425 for 21 weeks. Fall Shares are $250 for 6 weeks. We also offer a Beyond Organic Share, which gives our members the ability to help us grow healthier crops by investing in our capital fertility.