A comprehensive guide to local organic and sustainably grown food, services and products in Massachusetts and beyond. A project of NOFA/Mass.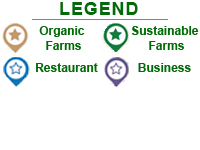 Life Alive Urban Oasis & Organic Café
281 Essex St, Salem, MA 01970, United States
01970
A WORLD OF DELICIOUS, ORGANIC, AND THERAPEUTIC FOOD, CREATED WITH LOVE TO FEED YOUR VITALITY.
A delicious meal, no matter how simple, is the starting point for nurturing the
body and soul, and at the same time, the family and even the community at large.
We know you no longer want to compromise between fantastic flavor,
whole foods goodness, and convenience.
Cambridge Location
765 Mass Ave, Cambridge, MA 02139
Call our Cambridge location at 617-354-5433 (life!)
or 617-460-2651
Hours of Operation:
Mon-Sat – 8am – 11pm
Sun - 10am – 10pm
Lowell Location
194 Middle Street, Lowell, MA 01852
Call our Lowell location at 978-453-1311
Hours of Operation:
Mon-Wed–10am–8pm
Thurs–Fri–10am–9pm
Sat – 10am – 8pm
Sun – 10am – 6pm
Salem Location
281 Essex St., Salem, MA 01970
Call our Salem location at 978-594-4644
Hours of Operation:
Mon-Sun 10am – 9pm
See menu: https://www.lifealive.com/caf-menu/