A comprehensive guide to local organic and sustainably grown food, services and products in Massachusetts and beyond. A project of NOFA/Mass.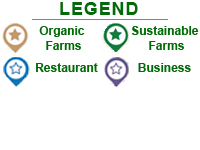 Long Hill Orchard & West Newbury CSA
520 Main St., West Newbury, MA
01985
Our 150 acre orchard and farm is conveniently located in West Newbury, MA., less than an hour from Boston, MA. or Nashua, NH., just a few miles off of major highways Routes 495 and 95. Our property offers a farm stand selling fresh produce, baked goods, ice cream and various sundries. Our acres of orchards offer Pick-Your-Own (PYO) apples, peaches and pears. We offer picnic tables, hiking trails, tours for school children, facilities for birthday parties, business meetings or social functions as well as our popular Community Supported Argriculture (CSA). Bring a lunch along and enjoy the quiet surroundings and magnificent sights, including panoramic views of the Merrimac river. You may even spot one of the many creatures that populate the orchard, such as the deer, red foxes, pheasants, blue herrings, eagles, rabbits or woodchucks. Visit our miniature goats and rabbits. We offer guided tours for groups. Please contact us for more information. Please call now to reserve a date for your field trip, social or business function. We look forward to seeing you!
Long Hill uses sustainable and naturally growing practices for all our CSA products with the goal of harvesting at the peak of ripeness, flavor and vitamin and mineral content.
Best to contact farm stand for PYO information
Middleton, Ma - Wed's, 2:30 - 6:30 pm Salem, Ma - Thu's, 3-7pm Haverhill, Ma - Sat's, 9am -1pm Swampscott, Ma - Sun's, 10am-1pm
Cost: $600 Full Share - $350 Half-Share - $200 Quarter Share. Weekly pick-ups at the LHO Farm Stand, 520 Main Street, West Newbury, Ma 01985