A comprehensive guide to local organic and sustainably grown food, services and products in Massachusetts and beyond. A project of NOFA/Mass.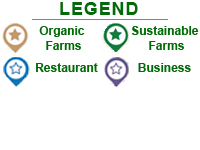 Mandarava Organic Kitchen
46 Inn Street, Newburyport, MA
01950
A celebrated private chef and the woman who taught her to cook set out to serve the public.
What resulted is an oasis of organic scratch cooking.
On the pedestrian road of Inn Street Playground in Newburyport, Mass., Mandarava's first customers were toddlers and they've since grown in height and number. To keep up, our public space quadrupled in size since we opened in 2012. People are turning to sustainable, farmer-friendly restaurants; chefs are inspired, by demand, to include plant based dishes. We're happy to be at the heart of that. Come have a rest and let us serve you. (mandaravajuice.com/about-us/, June 2017)