A comprehensive guide to local organic and sustainably grown food, services and products in Massachusetts and beyond. A project of NOFA/Mass.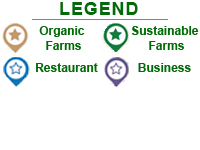 411 Sheldon Rd, Barre, MA, United States
01005
Since moving to Barre in 1982 with our four small children, we have made a priority of farming organically and as close to nature as we can. Over the past ten years we have been incorporating biological farming methods of soil remineralization along with inoculants and biostimulants with a goal toward maximum nutrient density for our crops. Over the past four years we have intensified our focus on soil carbon restoration through active animal and plant rotations, cocktail cover cropping all year round, increased use of wood chips, cardboard, leaves, and hay as mulch, tarps, and have almost completely moved away from tillage. We have been Certified Organic since 1987, and became certified by the Real Organic Project in 2018 (https://www.realorganicproject.org/).
We put a lot of energy into our farm educational efforts, both on the farm and through various workshops and talks for other organizations. Check out our offerings this year here. We welcome high school, college, church and other groups and individuals to come spend a half or full day at the farm participating in hands-on learning projects. Just give us a call, we are always looking for new relationships. Your tax-deductible donation to the Many Hands Sustainability Center will support employment for folks on the farm who often find it almost impossible to secure a job as well as our educational efforts. You can make a donation online at the website or send us a check directly if you would like to support this work. MHSC is a 501(c)3 tax-exempt charitable organization.
More information about our farm products including our summer and fall vegetable CSAs, pork, chicken, turkeys, eggs, lard, and an increasing array of farm-produced products like salve, soap, tinctures, meat stocks, dried apples and peaches, cider, shiitakes, etc., is available on the Many Hands Organic Farm website.
All manner of vegetables, fruits, pork, turkey, chicken, eggs, flowers, lard, and garlic.
We have a 22 week summer CSA from May 29 - October 30 and a 4 week late fall CSA from October 30 - November 20th – info at this link - https://mhof.net/csa-share-options/
Meat chicken, stew birds, pork, lard, turkey, meat stocks, eggs and chicken feet are available as direct meat sales. You can find all the details about Many Hands Organic Farm meat at this link: https://mhof.net/organic-meat/
Many Hands Organic Farm
Julie Rawson and Jack Kittredge
411 Sheldon Rd, Barre, MA 01005
978-355-2853 978-257-1192
[email protected]
We sell to the Insight Meditation Society in Barre, Green Fields Market in Greenfield, Chase Hill Farm in Warwick and other locations in Worcester and near our farm in Barre. If you're interested in wholesaling our products, please get in touch!
We don't have a farm stand, but you can pre-order meat and other items to pick up at the farm by appointment.
You can find all the details about the Many Hands Organic Farm CSA here: https://mhof.net/csa-share-options/