A comprehensive guide to local organic and sustainably grown food, services and products in Massachusetts and beyond. A project of NOFA/Mass.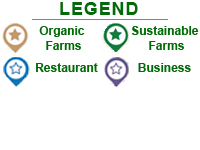 282 Brewer Hill Rd, Sheffield, MA
01257
Certified organic, holistically managed diversified farm raising animals and crops year-round. Licensed in MA for on-farm poultry processing.
We raise vegetables, fruit, mushrooms and pastured animals, including laying hens, broilers, turkeys, goats and hogs. Specialty vegetables include micro greens, salad greens, ginger and turmeric. The farm also includes an all-natural apiary. Sister organization Berkshire Wildflower Honey produces on the farm honey, beeswax moisturizers and lip balm and beeswax candles. Certified organic registered Tamworth piglets and breeding stock available.
Great Barrington FM, mid-may through Oct, Sat 9-1 Berkshire Grown Holiday and Winter FMs, GB & Williamstown