A comprehensive guide to local organic and sustainably grown food, services and products in Massachusetts and beyond. A project of NOFA/Mass.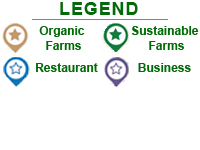 North Plain Farm / Blue Hill Farm
205 North Plain Road, Great Barrington, MA
01230
A little about North Plain Farm And Blue Hill Farm: All the animals on the farm live off a natural diet. They are free to roam and consume a diet of their choice. Our pigs and chickens are supplemented with NOFA-NY certified organic grains. Our cows are pasture-raised and we don't supplement their diet with corn or silage. It's simply 100% pure and organic grass—as nature intended!
100% grass-fed raw milk; pasture-raised whole roasting chickens; pasture-raised eggs; 100% organically fed pork (chops, breakfast sausage, sweet & hot Italian sausage, bacon, lard and hot dogs); and pasture-raised veal.
Great Barrington, historic railroad station at the intersection of Taconic Avenue and Castle Street, Saturdays 9 a.m. to 1 p.m., from Mother's Day weekend through October.
You can find us every day at North Plain Farm in Great Barrington.