A comprehensive guide to local organic and sustainably grown food, services and products in Massachusetts and beyond. A project of NOFA/Mass.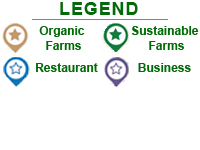 482 Newhalls Road, Conway, MA
01341
Open View Farm is a small educational family farm producing a bounty of naturally grown vegetables, herbs and garlic. We host farm and forest workshops and festivals for people of all ages. We offer intensive peace and justice education workshops and fellowships in a productive relaxing place in the beautiful hills where teachers can be learners and learners become teachers.
Vegetables, herbs and fruits.
Emily Howe, Daniel Greene and Kya Allon
Shelburne Falls (on the common, across from the intersectino of Church and Main streets), Fridays 3 to 7 p.m., between May 21 and Oct 8.
Conway (at the traffic island in front of the Field Memorial Library at the intersection of Main and Elm streets), Wednesdays 4 to 7 p.m., between June 9 and Oct 6.