A comprehensive guide to local organic and sustainably grown food, services and products in Massachusetts and beyond. A project of NOFA/Mass.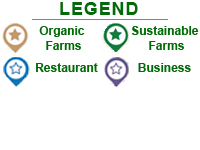 311 Wells St., Greenfield, MA
01301
Real Pickles is a small, worker owned co-operative producing pickled products that are raw, vinegar-free and 100% organic. Our products are made using the traditional natural fermentation process that has been used for centuries all over the world. In support of a regional food system, we buy all of our vegetables from family farms in the Northeast and sell our products only within the Northeast. Naturally fermented vegetables are rich sources of active cultures and enzymes.
Our vegetables come from: Chamutka Farm (Whately, MA); Red Fire Farm (Granby, MA); Upinngil (Gill, MA); Atlas Farm (Deerfield, MA); Riverland Farm (Sunderland, MA); Kitchen Garden Farm (Sunderland, MA); Old Friends Farm (Amherst, MA); Next Barn Over Farm (Hadley, MA); and Harlow Farm (Westminster, VT).
Real Pickles products are available at natural foods stores, farm stands and independent grocers throughout the Northeast. Online ordering is also available through our website.
Dill pickles; garlic dill pickles; spicy dill pickles, sauerkraut; garlic kraut; red cabbage; kimchi; turmeric kraut; ginger carrots; beets; and tomatillo hot sauce.
Dan Rosenberg and Addie Rose Holland