A comprehensive guide to local organic and sustainably grown food, services and products in Massachusetts and beyond. A project of NOFA/Mass.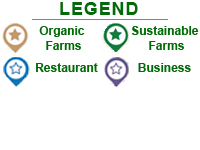 Shared Harvest Winter CSA
P.O. Box 214, Arlington, MA
02476
Shared Harvest CSA is a multiple farm Winter CSA that connects local, small-scale farmers with people who wish to eat well while supporting local family farms. In 2013 our primary vegetable growers are Picadilly Farm and Riverland Farm, both are certified organic. Cider Hill Farm grows our apples and Baer's Beans provides our dried beans. We have pickups once a month in Arlington, Canton, JP, and Winchester. Local, sustainably produced extras are available for the share as well such as Fiore Di Nonno cheese, Warren Farm maple syrup, and Fresh Meadow's Farm cranberries.
It varies month to month but in November we are providing: lettuce, bok choy, broccoli, cauliflower, spinach, peppers, kale, escarole, arugula, cabbage, parsley, radicchio, leeks, turnips, carrots, potatoes, beets, kohlrabi, fennel, apples, garlic, onions, and sweet potatoes
Arlington, Canton, Winchester, and Jamaica Plain. Once a month on Saturdays- large quantities and we help with ideas and resources for storing crops. November and December- $180. January and February $180.