A comprehensive guide to local organic and sustainably grown food, services and products in Massachusetts and beyond. A project of NOFA/Mass.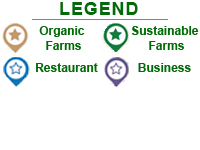 58 Forget Road, Hawley, MA, United States
01339
At SideHill Farm, we produce fresh delicious yogurt, raw milk, and beef from our grass-fed Normande and Jersey cows. Our cows graze certified organic pasture spring through fall and eat certified organic hay cut from those pastures in the winter. Come visit us! - our farm sits atop a broad hill with a view all the way to New Hampshire's Mount Monadnock and overlooks the beautiful eastern slopes of the Berkshire Hills. It feels like a little piece of big sky country right here in New England. See our website for stores and CSAs that carry our yogurt.
Yogurt from grass-fed cows, raw milk, cheeses, cultured sour cream, grass-fed beef, pastured pork.
Direct Meat sales: grass-fed beef: steaks, roasts and ground beef by the package year-round at the farm stand, and half and quarter animals by special order in the fall
Amy Klippenstein and Paul Lacinski
Our self-serve farm stand will now be open seven days a week, year-round with Raw Milk, yogurt, beef, pork, cheeses, and our cultured sour cream. All from our grass-fed cows (and pigs!) and available in the farm shop. Come visit!