A comprehensive guide to local organic and sustainably grown food, services and products in Massachusetts and beyond. A project of NOFA/Mass.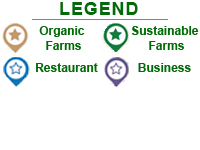 The Herb Hill Micro-Dairy
16B (back) Brookline Street, Pepperell, MA 01463, USA
01463
The Herb Hill Farm is a small, diversified family farm located in Pepperell, MA.
Our farm raises dairy goats for their nutritious raw milk for health conscious, or lactose intolerant individuals. We are a licensed Grade A micro-dairy with the state of Massachusetts selling fresh, pure raw goat's milk from goats who eat a pasture-based diet with organic grains.
We sustainably raise organic chickens on pasture grasses, with organic grain as they choose, selling their meat and delicious fresh eggs. Buy local and taste the difference organically raised chicken makes. Get chicken stock and parts too. Get at least a few meals, along with chicken stock, from one of our whole chickens.
Our eggs go from the farm to you in less than 5 days.
We are taking climate action by practicing regenerative farming methods as we grow USDA certified organic vegetables for our community, restaurants, and the local markets we serve. We are certified organic by Baystate Organic Certifiers. This is our 12th year being certified organic. You can find our produce at local restaurants, Pepperell's Quality Market, and through our three CSA programs in the Spring, Summer and Fall.
Raw goat milk, chicken, eggs.
Shop online: https://theherbhillmicrodairy.company.site/
We offer a self-service Farm Store open every day from 8 am to 7 pm,
The Herb Hill Family Farm CSA offers:
-Weekly or bi-weekly (every other week) delivery/pick-up of pre-boxed produce
-2 Pick-up locations - Andover, MA & Pepperell, MA
-Weekly or on-demand Add-on items: eggs (duck and/or chicken), frozen ground beef patties, goat milk soap,