A comprehensive guide to local organic and sustainably grown food, services and products in Massachusetts and beyond. A project of NOFA/Mass.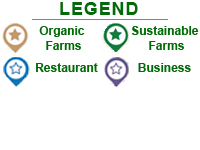 Waltham Fields Community Farm
240 Beaver Street, Waltham, MA, United States
02452
Waltham Fields Community Farm is an 11-acre farm located 10 miles west of downtown Boston. We grow vegetables using all organic methods for our 480+ Community Supported Agriculture (CSA) share program and hunger-relief and food-access partner agencies in the Greater Boston area. WFCF is a nonprofit organization with several ways to get involved and connect with local land and food. Visit our website if you'd like to learn more about our CSA shares, volunteer or bring your school group to the farm!
Stacey Daley
Executive Director
240 Beaver St
Waltham, MA 02452
781-899-2403
Pick your own is available only to CSA shareholders. Visit http://communityfarms.org/csa/csa-overview to sign up for a 2018 CSA share!
We sell a variety of locally sourced food products available to the public, including humanely raised meats, homemade jams, honey, maple syrup, and much more. We also occasionally have a variety of our own organically grown vegetables for sale to the public. Our farmstand is open June 5th through October 19th, 2019: Wednesdays (2-6:30 pm), Thursdays (2-6:30 pm) and Saturdays (9 am-2 pm).
We offer 10- and 20-week Summer ($425 & $725), Winter ($225) and Pick-Your-Own Flower ($200) shares. Pickups for Summer shares are at the farm, June 13 - October 27: Wednesdays (2-6:30pm), Thursdays (2-6:30pm) and Saturdays (9am-2pm). Pickups for Flower shares are once a week for ten weeks, beginning in mid-July. Winter share pickups are at the farm; twice in November and once in December on Saturdays 1 to 4 p.m.