A comprehensive guide to local organic and sustainably grown food, services and products in Massachusetts and beyond. A project of NOFA/Mass.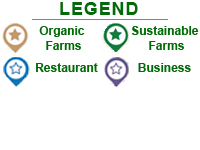 845 Sodom Road, Westport, MA, USA
02790
Weatherlow Farms raises the highest quality grass-fed beef, lamb, and chevon, and pastured pork, poultry, and eggs in the seaside town of Westport, MA. We grow a curated selection of flowers and foliages, designing bouquets and arrangements for weddings and special events with materials entirely grown on the farm.
Food and florals are cared for with environmentally sustainable and socially responsible practices, which focus on the special link between soil health, animal health and human health.
Our Mission is to be a good steward of the land. To heal and nurture with the highest level of animal husbandry and agricultural practice.
The farm, purchased in 2014, has a rich agricultural history, supporting a thriving dairy operation for much of the past century. Today, the overarching goal of Weatherlow Farms is to provide a superior product while supporting biodiversity while utilizing biological farming methods, which focus on soil health.
Weatherlow Farms offers the highest quality grassfed beef, lamb, and chevon, and pastured pork, chickens, and eggs. Proteins are available at retail, bulk, and wholesale pricing.
We also offer cut flowers retail and wholesale as well as full floral design services.
The farm hosts seasonal events including workshops, pasture walks, and dinners, as well as private events.
Please visit us at:
845 Sodom Rd
Westport, MA
02790
www.weatherlowfarms.com
[email protected]
(508) 938-9398
Wholesale pricing is available on request. Please contact us for pricing.
Farm Store Hours through Memorial Day 2019: Thursday and Friday, 3p-6p/Saturday and Sunday, 10a-2p. Memorial Day through Labor Day 2019: Wednesday through Friday, 11a-6p/Saturday and Sunday, 9a-3p
We run two six-month Meat CSAs; November to April, and May to October. Members receive six monthly shares of 10-15 pounds each for $630. Flexibility in share size and proteins are available. Pick-up is at the Farm Store. Check our website for more info.