A comprehensive guide to local organic and sustainably grown food, services and products in Massachusetts and beyond. A project of NOFA/Mass.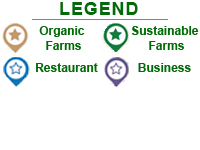 227 East St., Hingham, MA
02043
Originally part of a picturesque, early-20th-century country estate, Weir River Farm, a property of The Trustees of Reservations, today is a small-scale, diverse working farm. Livestock includes heritage breeds of cattle, pigs, chickens, sheep, plus other barnyard animals. In addition, Weir River Farm produces vegetables for local farmer's markets, a Community Supported Agriculture program, local restaurants and nearby hunger relief organizations. Finally, the farm is open to the public through self-guided hiking trails, frequent events, and educational programs for all.
Weir River Farm's vegetable operation falls under the guidelines set forth in the Sustainability Pledge. We use no synthetic fertilizers or pesticides on our crops and our seed is not genetically modified. Weir River also raises sheep, cattle, chickens, and pigs for meat, eggs, and fiber. Our herd of Belted Galloway cattle and flock of Icelandic sheep live on pasture year-round and are primarily fed a diet of locally raised hay. They are well within the standards of the Sustainability Pledge. The sheep do receive a synthetic wormer, but it is used sparingly. The chickens and pigs receive grain that may contain genetically modified corn and/or soy, but they are also fed food scraps from a local grocery store to reduce their dependence on imported feed. The chickens are housed in a small barn with a large outdoor run which provides freedom to express their natural tendencies but also safety from predators. The pigs have access to pasture or woodland year-round. They are happy, healthy animals.
vegetables, csa, eggs, meat, beef, pork, lamb, wool, fiber
Hingham Farmers' Market on Saturdays 10 a.m. to 2 p.m., May-November at Hingham Bathing Beach
2012 CSA shares cost $625, provide 8-14 items per week for 20-21 weeks, and include a "pick your own" portion. Shares require on-farm pick-up.