A comprehensive guide to local organic and sustainably grown food, services and products in Massachusetts and beyond. A project of NOFA/Mass.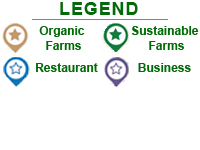 155 Merrimack St., Lowell, MA
01852
World PEAS (People Enhancing Agricultural Sustainability) is a network of farmers that have completed agricultural and business training with the New Entry Sustainable Farming Project. Over two dozen farmers contribute to the World PEAS CSA, hailing from Africa, Asia, North America, Eastern Europe and the Caribbean, and manage small farms near Lowell. Many of these farmers are economically and socially disadvantaged and have little access to other marketing outlets due to social, technological and language barriers. In addition to growing traditional American vegetables, many continue to grow ethnic crops from their homelands. World PEAS farmers are not certified organic, but use organic and sustainable growing practices. Additional CSA items, including sweet corn and potatoes, are sourced from certified organic farms and farms that use integrated pest management for a selection of more than 70 locally grown traditional and ethnic vegetables, berries, melons, tree fruit and more. By buying a farm share with the World PEAS CSA, you will get fresh, local and healthy produce, while supporting the next generation of culturally diverse farmers.
Produce is harvested the day before or the morning of delivery and packed into bushel boxes. Shares may be picked up directly from the farm in Dracut or from one of our remote cluster locations. If you are interested in having shares delivered to your town, inquire about coordinating a cluster where you live or work.
Large shares include enough vegetables and fruit each week to feed a family of four or five. 20 distribution; from June to October.
Small shares include enough vegetables and fruit each week to feed two. 20 distributions ($27 each), from June to October.
Fall/Harvest shares are distributed in September and October and are perfect for students or families who are out of town during the summer months.