A comprehensive guide to local organic and sustainably grown food, services and products in Massachusetts and beyond. A project of NOFA/Mass.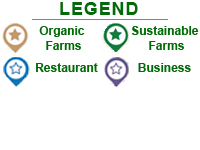 78 Ridge St, Winchester, MA, USA
01890
Mission:
The Wright-Locke Farm Conservancy builds broad community and seeks to model sustainable practices through active learning, organic agriculture, land stewardship, and an appreciation of our historic New England farm.
What We Do:
Grow certified organic vegetables, fruits and flowers for local consumption.
Offer farm-based educational experiences for people of all ages through structured programs and informal learning.
Open our doors for public and private events, providing a venue for recreation, leisure and
gathering.
Steward our historic buildings, resources and open space
Provide meaningful volunteer opportunities to benefit the farm and our constituents
Practice environmentally sound growing methods and explore new approaches to sustainable agriculture
Provide a meaningful connection for our community to nature, food and history
Preserve this active farm and special place for generations to come through sound financial practices that balance the need for revenues with free access to the farm for all.
Diverse array of organic vegetables, herbs, and some fruits (blueberries & raspberries). Pasture raised eggs. Honey. Raspberry Jam. Organic flower bouquets, bulk, and pyo flowers. PYO raspberries.
PYO Organic Raspberries from September - October. More details for pricing and hours can be found here: https://www.wlfarm.org/u-pick-raspberries/
Adding a PYO flower operation as of 2020.
Winchester Farmers Market (weekly)
Open May - November. We offer a variety of produce and other local products including coffee and refreshments. For more info, visit the farmstand webpage: https://www.wlfarm.org/farm-stand-markets/
We also offer a wide array of local produce and products through our online farm store: Farm to Go. Order any week for pickup Tuesday, Thursday, or Saturday afternoons. Farm to Go operates year-round! Head to wlfarm.org/farm-to-go/ for more info.
Small # of CSA shares available each year. Pick-up on Thursdays. 20-week shares, 10-week (alternating weeks) shares, flower shares available (Tuesday and Thursday pickup available for flowers). Visit https://www.wlfarm.org/csa-sign-up/ for more info.