A comprehensive guide to local organic and sustainably grown food, services and products in Massachusetts and beyond. A project of NOFA/Mass.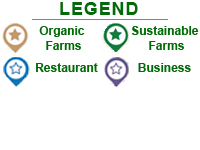 Sangha Farm is a small diversified family farm. We grow three acres of vegetables and culinary herbs. We make goat cheese from our herd of Nubian goats and raise Finn sheep. We do not use any chemicals or artificial [...]
188 Creamery Road, Ashfield, MA
01330
The Ritchie Family: Derek, Maribeth, Maia and Jayden
Certified organic, holistically managed diversified farm raising animals and crops year-round. Licensed in MA for on-farm poultry processing.
282 Brewer Hill Rd, Sheffield, MA
01257
On the farm we have dairy and meat goats, ADGA registered purebred LaMancha stock and stud service. We also offer the following agricultural services: brush clearing, pasture restoration and maintenance, and field preparation (harrowing, plowing, rototilling, amendment spreading, seeder/cultipacker). [...]
309 Gidney Road, Orange, MA
01364