A comprehensive guide to local organic and sustainably grown food, services and products in Massachusetts and beyond. A project of NOFA/Mass.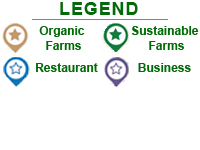 218 Greenfield Road, South Deerfield, MA
01373
Atlas Farm is an 85-acre diversified vegetable farm located in Deerfield, Massachusetts. We grow certified organic plants and produce. Our produce is sold across Western Mass. and in the Boston area through wholesale, farmers' markets, and at our retail farm store in South Deerfield.
Our land lies along river banks in the Connecticut River Valley on some of the most fertile vegetable growing soil on the East Coast. We harvest a wide range of vegetables, herbs and flowers nearly every day throughout the year. The crops that we grow include standard, gourmet and heirloom varieties of almost every vegetable crop that grows in New England.
All of our products are certified organic by Baystate Organic Certifiers under the USDA National Organic Program. The health of the land that supports us is the foundation for the viability of our farm. We are committed to growing produce in a way which balances productivity with nurturing this ecosystem that we inhabit.
The Farm Store
The opening of our retail Farm Store located at 218 Greenfield Rd. (Rts. 5&10) in South Deerfield fulfills a long time vision of Atlas Farm. The Farm Store is open 7 days a week from 8 a.m. to 7 p.m. The hope for this store is that it will increase accessibility to organic produce and other high quality local products for our community. In addition to our own produce, we also stock various products from yogurt to pickles, and everything in between, including milk, eggs, butter and bread. In season, you can pick your own strawberries, flowers, herbs, cherry tomatoes, peas and beans in the fields surrounding the store. Bring your friends and family and plan for a picnic!
Vegetables, Fruit, Herbs, Flowers, Vegetable Plants, Milk, Eggs, Bread, Frozen Meat, Groceries and more
Strawberries, Cherry Tomatoes, Peas, Beans, Flowers, Herbs. Call ahead to see what's available!
Boston, Copley Square, Tuesdays and Fridays 11 a.m. to 6 p.m., May through November.
The Farm Store is open 7 days a week from 8 a.m. to 7 p.m.
Similar to a CSA, The Market Share program strengthens the relationship between the farm and our market customers. By purchasing a Market Share, you are awarded a discount, and the freedom to buy exactly what you need. In addition, Market Share members are invited to events at the farm throughout the year. Please visit our website for more details.