A comprehensive guide to local organic and sustainably grown food, services and products in Massachusetts and beyond. A project of NOFA/Mass.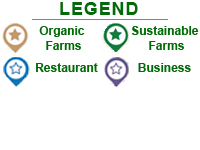 74 Thrasher Hill Road, Worthington, MA
01098
We are a small family farm in our beginning season of opening an organic edible nursery. Our dream is to re-establish the presence and ideology of the once prominent victory gardens. Our nursery is focused on growing heirloom varieties of edible plants. We will have plants for your garden including edible flowers, medicinal herbs, vegetable starts and fruit stock. We are also in the process of resurrecting a local apple orchard. The old farm stand is where we will be selling our nursery plants and have pick-your-own strawberries, blueberries, pumpkins and apples. We will be hosting workshops and community events throughout the season. We look forward to welcoming you onto the farm!
Vegetable starts, edible flowers, herbs, strawberries, blueberries, apples
Chris Reid and Anna Maunz
Greenfield Farmers' Market, Saturdays 8 a.m. to 12.30 p.m. Springfield Farmers' Market, Tuesdays 12:30 to 6 p.m.
Farm stand open May through November: Friday, Saturday, and Sunday 9 a.m. to 5 p.m. at 330 Ireland St., Chesterfield, MA