A comprehensive guide to local organic and sustainably grown food, services and products in Massachusetts and beyond. A project of NOFA/Mass.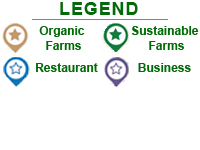 449 Barretts Mill Road, Concord, MA
01742
Barrett's Mill Farm is a diversified organic vegetable, fruit and flower farm located on the McGrath Farmstead in Concord, Massachusetts. The McGrath farmstead is owned by the Town of Concord and leased by Barrett's Mill Farm. We grow vegetables, flowers and fruit on 15 acres of land. Our produce is sold through our Community Supported Agriculture (CSA) and Farm Store. We also offer Barrett's Bucks, a farm store debit program.
Asparagus, arugula, beets, bok choy, broccoli, cabbage, C carrots, cauliflower, celery, celeriac, cucumbers, eggplant,kale, kohlrabi, leeks, lettuce, onions, parsnips, salad turnips, storage turnips, sweet peppers, potatoes, radishes, shallots, spinach, summer squash, winter squash, swiss chard, tomatoes, watermelon and zucchini.
Melissa Maxwell and Lise Holdorf
CSA members may pick basil, cilantro, dill, parsley, string beans, sugar snap peas, snow peas, cherry tomatoes, tomatillos, husk cherries, hot peppers, sunflowers.
Tuesday - Friday 11 to 6 pm, and Saturdays 9 a.m. to 3 p.m.
Barrett's Mill Farm's CSA is a "market style" CSA. Over the course of 20 weeks, members come to the farm once a week and choose from among the 10-15 vegetables available to fill their CSA bag. All vegetables are grown at Barrett's Mill Farm using organic methods. In addition to the vegetables that will be harvested for members, there will be a set amount of Pick-Your-Own crops available most weeks.